J&O Hygienic LL Type 4-way Ball Valve New Mould Finished.
Publish Time:
Author: Site Editor
Visit: 3500
It is a good news that J&O LL Type Hygienic 4-way Ball Valve New Mould are finished.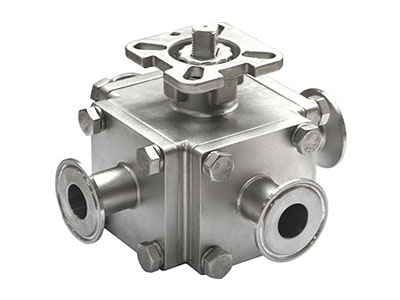 The Ball valve Using for PIPE SYSTEM APPLIED IN FOOD, WINE, BREWERY, REFINING, COSMETICS, PHARMACEUTICAL AND CHEMICALS INDUSTRIES, REQUIRED NON-RETENTION AND SWITCH THE DIRECTION OF TWO MEDIA.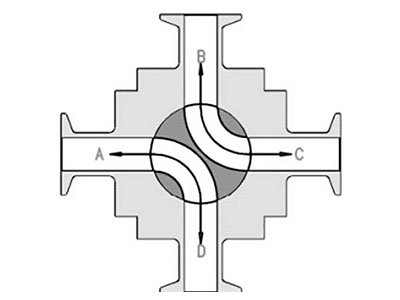 1, This series of valves can be equipped with a variety of drive devices.
2, The working principle of this series of valve' s medium flow direction:
• As shown in the picture, the four-way reversing ball valve, one valve achieving positive and negative water supply switch, eve『y 90 switch, mold of water supply changed, simultaneously switch the flow direction of two media, convenient and rapid, achieve the effect of multipurpose valve.
• In the old time, supply water need four valves, when supply water, valve A, D opened, valve B, C closed; in opposite direction, valve B, C opened, valve A, D closed; but now only one valve can take place the four, easy to operate.
• Small fluid resistance: The connecting pipe section of the sphere and body are equal, and the spherical channel use arc connection, when the media through the sphere there has small fluid resistance.
• Well sealing performance: valve seat use the PTFE material with a certain elastic deformation and high strength, reach the well sealing performance to make sure the stability of the valve.
• Long-lasting usage: overall material of the valve choose sanitary authentic stainless steel, valve seat select PTFE material, can reach the good effect of corrosion resistance, to extend the usage life of the valve.
• Non-stagnation design: sealing choose quality PTFE encapsulated structure, so that the PTFE seat, sphere and valve body contact closely, to reach the purpose of non-retention
SIZE: 1"-4"
Material: SS304 & SS316L
SEAT: PTFE (Full Filled Cavity PTFE)
Manual & Actuator are options.